Scala Rider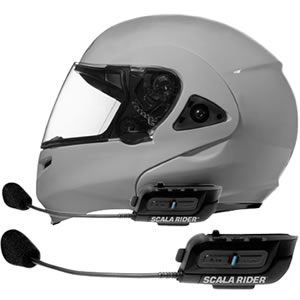 A must-have product for motor cycle riders, the Scala rider G9 motorcycle intercom communication system has the most incredible features making it a needed piece of equipment for any biker.

It brings communicating on the road to a whole new level, the Scala G9 is setting the standards.

The G9 communications can allow bike to bike connections at ranges of up to 1 mile. Another cool feature is the One+8 feature that allows the G9 to connect with 8 riders at once. This is due to its unique motorcycle intercom communication feature.

Hitting the road with your Scala involves a simple attachment to your head gear. To talk to someone just say their name because it is just that easy with voice activated commands where just saying someone's name puts you directly in touch with that person using either the duplex mode or full mode.

With the Scala G9 you will be able to make voice activated conferencing connections with groups of up to four riders in Scalas full duplex mode.

With the Click-to-Link feature which is patented technology of Scala it will also allows you to connect with other Scala who are nearby but not part of your group and with no need for pairing.

With the unique social media platform and the Cardo community you can now arrange those tours you have been planing with your riding friends. You can even prioritize your Scala rider G9 to update your software.

Featurs like the GPS, mobile phone, the MP3 player or just simply tune in to the FM radio with RDS and catch your favorite sounds while connected to the G9.

Options are available to suit any riders helmet with a variety of microphones and a multi platform Boom as a part of the package.

The G4, and the Q1 are just a few of the compatible options available that can merge with the G9 Scala Rider
However the terrain you drive in my dictate the quality of reception at least with the fm radio.

If connect with some of the earlier models, your reception could be reduced.

The head sets are differently price to sell. Prices start around $150.00 to upwards of over $500.00. So go online, find and a location nearest you, or just shop online from the convenience and comfort of your home.